While it's super important to market your therapy practice to millennials, who are basically just adults under 40, it's also getting increasingly important to market your practice towards people in Generation Z, who are affectionately called "Gen Zers."
So who falls into Gen Z? People that are between the ages of 2 and 19. While 2 year olds aren't typically making healthcare decisions for themselves, 19 year olds who have just left high school are making their own mental health choices and it's important to create marketing content that will resonate with them. Especially if you specialize in treating teenagers and young adults. In just a year or two, Gen Zers will be heading into their 20's and many of them may be interested in seeking counseling.
Another thing to know is that Gen Z is the most diverse and multicultural of any generation in the U.S. 55% are White, 24% are Latinx, 14% are Black and 4% are Asian. Which is why displaying your TherapyDen badge on your website could go a long way with this population. Click here to create a profile and grab your badge.
Now let's explore four ways to reach Gen Zers. Ideally you'll aim to integrate all four suggestions into your marketing material.
Clearly display your worth
As therapists, we probably all believe that therapy is definitely worth the time that anyone puts into it. On a weekly basis, we get a front row seat to experience the growth and healing power of counseling. Gen Zers have a lot going on and they have tons of things that are asking for their most valuable commodity, time. Gen Zers put a large focus on personal success and often see it as the most important thing in life. So as a therapist, it's your job to clearly explain that the time put into counseling can have a huge impact on gaining personal success in life. As we all know, success is often easier attained when your mental health is in tip top shape. Explaining how therapy can help Gen Zers reach their goals is something that could really resonate with them.
Get to the point
Gen Zers value succinctness. Remember, they have grown up with the power of technology at their fingertips. When they perform a Google search, they want the answer to be displayed in the first search result. They don't want to get lost on a wild goose chase trying to hunt down information. So get to the point as quickly as you can. I don't recommend tossing out all your carefully created content for a top 5 list of the benefits of therapy. But I do recommend being direct and concise as often as possible. Gen Zers are rapid information gatherers and want to quickly figure out if you'd be a good fit for them as a counselor. That's why it's super important to paint a picture of who your ideal client is. The niche that you serve should be easily identifiable when someone lands on your website or therapist directory profile. Take a look at my profile to see how I have clearly and quickly identified the type of client I specialize in working with.
Be a real person
Gen Zers value honesty and responsibility. While they want to work hard in therapy to figure out the real version of themselves, they also want to know the real version of you. As therapists, who are not in Generation Z and have been trained to not self-disclose much, I know that this could bump up against what we feel comfortable with sharing in our marketing material and in session. But I'd like to push you to get out of your comfort zone and be more authentic about who you are and what you believe in. In Barkley's "Getting to know Gen Z," 77% of Gen Z value marketing that shows a more real version of life instead of polished perfectionism. So don't be afraid to show your flaws and imperfections in your marketing. And take full advantage of displaying beliefs and values that you're comfortable sharing on your website and in the "Personal Beliefs and Interests" section on your TherapyDen profile.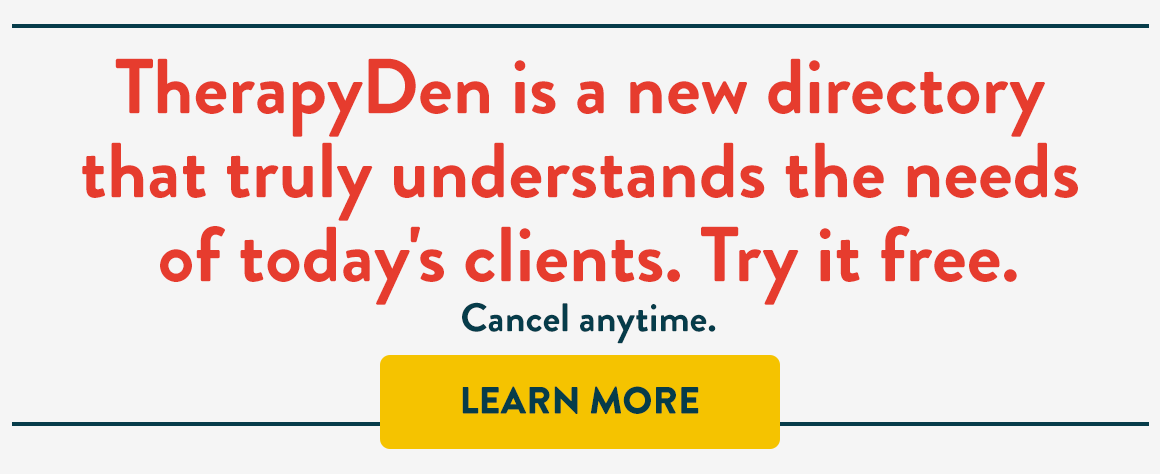 Be creative and fun
Let's not go crazy here and try to develop a standup routine or make a website 100% out of memes. But do try to be engaging in your content and marketing materials. While therapy is serious business, as it should be, it doesn't mean you can't insert some levity every now and then. We all know how laughter can be very powerful in a counseling session. The same could be said in your marketing campaigns. Adding humor will allow you to stand out from the crowd of therapists who steer clear of t. So go ahead, take a chance and be creative. Try to think outside the box when connecting with clients. Your attempt, even if it's not the funniest thing ever, could attract some younger clients who resonate with your energy. A great way to stand out in this regard is to post a video to your site or TherapyDen profile. It really allows potential clients to see how unique you truly are.
Want to connect even more with Millennials and Gen Zers? A great first step is to create a TherapyDen profile. It's free to post a profile during our beta period. Learn more about who we are how much the eventual monthly fee will be on our FAQ page.
Jeff Guenther, LPC, is a therapist in Portland, OR. He has been in private practice since 2005. Jeff is the creator and owner of Portland Therapy Center, a highly ranked therapist directory. Jeff, and his team, have launched a new progressive therapist directory, TherapyDen.