I have created two therapist directories in the past five years. One of them is a local therapist directory for Portland. And the other is a national therapist directory called TherapyDen. (If you're reading this blog, then you're visiting TherapyDen right now and you can click "List Your Practice" in the navigation menu to create your profile). Suffice it to say, I'm pretty into therapist directories. And one of the best parts of owning two directories is that I get to collect data that tells me what makes a successful profile that attracts client referrals. And as you can imagine, I have taken all that data and used to it optimize my own profile page to attract clients that are the best match for me. You should feel free to steal all these ideas.
One quick note before you read on. There are some things that even the best profile can't compete with. For example, there are popular mental health issues that are chosen more frequently than others. If you don't treat the most popular issues, then you won't get the most views. Click here to see the most popular. Also, some areas of cities get searched more frequently. So your office zip code plays a factor in profile visits. And of course, insurance or session fees play a major role as well. But, these things aside, there are many important elements of your therapist profile within your control and with some simple edits or changes you absolutely can attract more clients.
Why my profile photo is better than yours
Whether we like it or not, our profile photos play a big role in the number of clicks we get. Unfortunately for me, my dashing good looks don't garner more clicks than other therapists who aren't as handsome. But I suppose that evens the playing field for all. When it comes to profile photos, what matters most is your facial expression and the composition of the photo. My photo works because my chest, shoulders and head are framed perfectly. I have a nice friendly closed lip smile. If you dare to open your lips while smiling, only reveal your top teeth and not your bottom set. Revealing both your top and bottom teeth will only attract clients that intend to report you to your state board for the most minor of infractions. Kidding. It would just make you look like a weirdo. My photo also works because I am outside in natural light and I am dressed business/casual, wearing a very stylish therapist cardigan if I do say so myself. The photo is crisp and is obviously not a selfie. Selfies turn clients off.
Why my intro is better than yours
Back in the day, wasn't the number one rule of marketing to not exclude any of your customers? I feel like it was. Well times have changed and now we preach the opposite. And I have the data to back it up! Therapists that market their profiles to specific ideal clients will attract more referrals. And that's why my intro is written specifically to my dream client. As you can read below, my intro says, "I help people that feel anxious in relationships to stop feeling anxious in relationships."
If you were feeling anxious in a relationship (and who isn't??) you'd probably hit the contact button midway through reading that sentence. And if that sentence didn't resonate with you, you might be like, "Okay cool. I'll keep reading his profile." It's an intro that's not going to scare anyone off. And it's also an intro that's going to attract a bunch of people that are currently having a freak out about their relationship. As long as you stay away from intros that are waaaaay too specific like, "I only help kleptomaniacs using psychodrama." Or waaaay too general like, "I help everyone with everything!" then you'll be good to go.

My "About My Clients" section is better than yours
First of all, if you have a Psychology Today or GoodTherapy profile, then you don't even have an About My Clients section and I feel bad for you. But I feel even worse for potential clients that are trying to picture themselves in your office. This section is the most important written section on your profile. So take it seriously and try your very best to connect with your ideal clients. Mine is so damn good because I continue the trend of my Intro section and speak directly to my ideal clients. Throughout your profile, it's important that you connect with the populations and issues that you best serve. I want to treat clients that keep tripping up on the same relationship patterns they've experienced all their lives. And that's exactly what I'm going to put in this section.
Let's break it down real quick. I do four important things in this section:

I frame their presenting problem - repeated relationship failures.
I empathize with the problem - I say it must feel "impossible" and they must be "exhausted."
I'm understanding - I say "I get it. It's bananas out there."
I tell them how therapy can help solve their problem - I say it'll provide insight to get them out of the rut and clarity to grow.
Follow that formula and your profile will be golden. Just like mine ;)
My "Background and Approach" section is better than yours
While this section is verifiably the most boring section of a therapist profile, it is still incredibly important because this is where you need to display your authority and prove that you have the clinical chops to sit across from someone and help them process their issues. One of the reasons mine is better than yours is because I use zero clinical jargon. Yay for no jargon! Jargon will instantly cause a potential client to click the back button and check out other therapists in the area.
While I do spend a few sentences proving to the reader that I went to school for counseling and that I have been a practicing therapist in their wonderful city since 2005, I also clarify what counseling actually is so that I can do a bit of expectation setting before they even step into my office. I use the magical word "collaborative," which for whatever reason, really resonates with clients and get's them to reach out more often to therapists that use that word compared to therapists that don't.

A common mistake I see in this section from therapists who are not me, is that they spend way too much space talking up academic achievements, special awards and certifications they have. While you should spend a few sentences proving you're legit, clients already assume you're a qualified therapist for just being on a therapist directory. So try not to come off as so desperate to prove yourself. It's a turn off. And it's boring. Trust me.
My "Personal Beliefs and Interests" section is better than yours
Again if you have a Psychology Today or a GoodTherapy profile you are missing out on the most fun and exciting section of all. Well, maybe not exciting but definitely fun! These days, clients want to know who exactly they'll be spilling their guts too. Especially Millennials and Gen Zers. And that's why this section exists. I see all you therapists out there who have been trained to keep self-disclosure at a complete minimum. I know this section makes you feel uncomfortable. And that's fine. I get it. You don't have to fill this section out if you don't want to. Or you could talk about something really safe, like how much you enjoy gardening or walking your dog or that you believe everyone deserves to find peace. And even that little bit would actually go a long way. Prospective clients want to know at least a little something about you. It helps to create trust and develop a good rapport even before they make contact with you.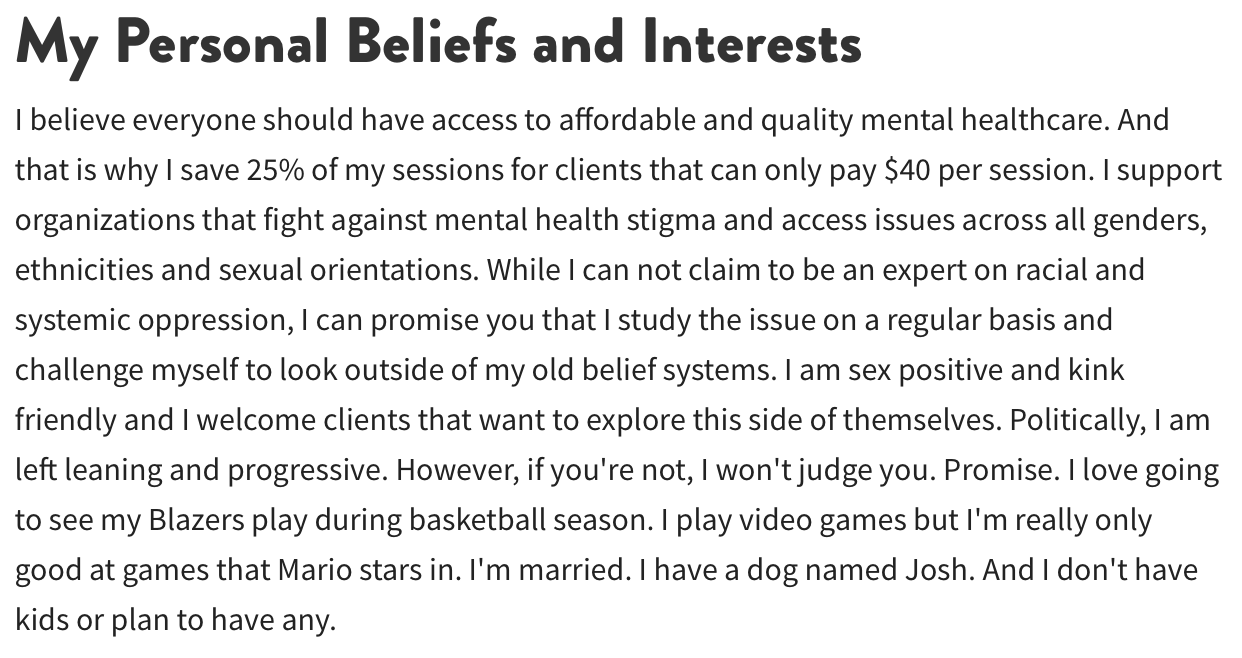 But why is my profile better than yours? Because I go all out in this section and spill quite a few personal details so that clients can get to know me and feel better about being vulnerable with someone who is on a similar wave length. In my profile I reveal the following:

My beliefs on affordable therapy access.
My support for organizations that fight stigma.
How I support mental health services access for all genders, ethnicities and sexual orientations.
How I'm not an expert on race relations but I try.
I'm sex and kink friendly.
I am politically progressive.
I love my Portland Trailblazers.
Mario is my favorite video game character.
My relationship status.
My dog status.
And that I don't have kids and don't want 'em.
When I wrote this section, I checked in with how much I would feel comfortable revealing and you should do the same. Whether we like it or not, clients are trying to find a therapist that matches their values. If there is a value match, then there is a better chance they'll reach out. Can a client and therapist experience success even if values are mismatched? Of course they can. I have helped plenty of folks who have different values or beliefs than I do. However, more clients today are first looking for a values and personality match. And that's why this section is so crucial.
TherapyDen is different
TherapyDen does things differently. We also have a mandate to fight racism, homophobia, transphobia and hate of any kind. Click here to learn more about creating a free profile during our beta period. We need therapists like you to sign up for our directory so that we can take on the big guys in our industry. The only way we can achieve that is to get more counselors to create profiles. So if you haven't created an account or activated your membership, please consider doing so. Every therapists that signs up gets us closer to reaching clients who can't find what they are looking for on the other therapist directories. Thanks for reading :)
And did I mention that you get to add this snazzy little web badge to your website when you activate your profile? DISCLAIMER: Displaying the badge is not a substitute for actively creating an inclusive and safe environment in your practice. Display the badge AND accept and support all clients.
Jeff Guenther, LPC, is a therapist in Portland, OR. He has been in private practice since 2005. Jeff is the creator and owner of Portland Therapy Center, a highly ranked therapist directory. Jeff, and his team, have launched a new progressive therapist directory, TherapyDen.