Therapist directories are here to stay. It's super convenient for all of us to be on the same website with search filters that help narrow down the choices. And it's way too cumbersome for clients to only use Google when looking for a counselor.
And whether you're aware of it or not, therapist directories are changing. A lot. I predict the Psychology Today directory will be a lot less powerful five years from now. There are just too many tech savvy therapist entrepreneurs trying innovative things (like yours truly).
Psychology Today has been the behemoth with a monopoly for way too long. And because they've been the only real game in town forever, they haven't been forced to change with the times. GoodTherapy.org has put up a good fight. They have a nice mission and they offer more value than Psychology Today, but they haven't modernized their search filters or updated their site in any real meaningful ways. I'm not here to pick on GoodTherapy. (I am here to pick on Psychology Today because there is just so much to pick on and they totally deserve it). When it comes to helping prospective clients find an ideal therapist that truly meets their needs, therapists directories can, and should, do better. With TherapyDen, I'd really love to nudge the whole therapist directory industry forward and into the future. And if TherapyDen can't do it, then I hope somebody else does. TherapyDen can do it by the way :)
Why don't Psychology Today or GoodTherapy update their sites?
The short answer: too big of a business risk.
The longer answer: TherapyDen, your modern and future oriented therapist directory, allows clients to search for therapists based on some pretty unique criteria. Clients can find a therapist that is part of the LGBTQ community, has a racial justice framework, has gender-neutral bathrooms, believes in health at every size, is a specific ethnicity, has specialized experience in non-monogamy relationships and much more. The therapist's profiles are structured in a user friendly, client-centric way that caters exactly to what visitors want to know about their potential therapist — including information on their approach, their values, online scheduling availability and a section devoted to who their typical client is. For Psychology Today or GoodTherapy, updating to include these modern, client-focused features could put all the therapists who subscribe and already like their platforms at risk. Also, if you ask therapists to update their profiles with even more content, the likelihood of them logging in and actually doing that are really low. And if the majority of therapists did not add the new content, the site would be pretty clunky. Because of these issues, and maybe laziness when it comes to Psychology Today, both directories are in a tough place when it comes to updating their sites.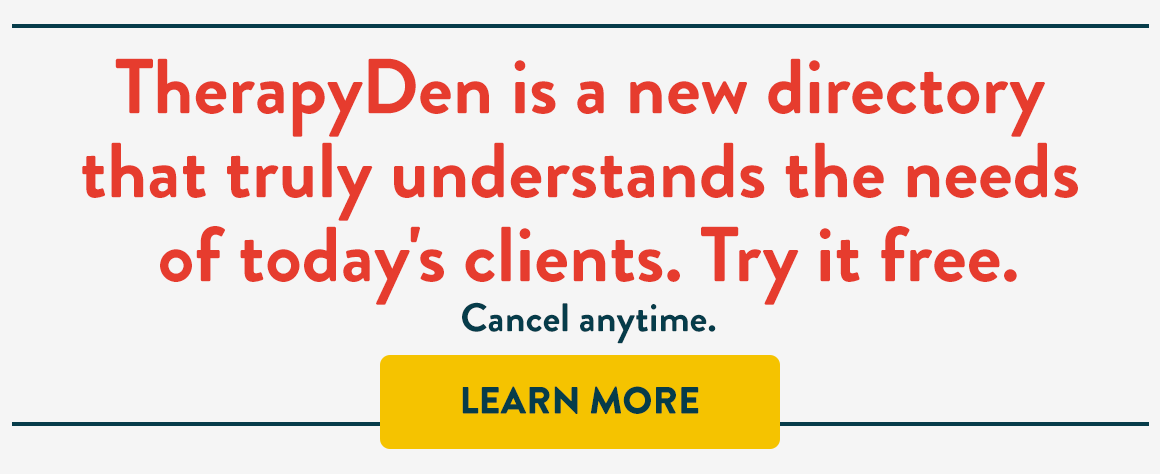 And that's where TherapyDen comes in. TherapyDen was built to meet the needs of today's clients and it already has all these modern updates. It's also new enough that we can easily integrate more features without upsetting any long time subscribers. Our goal is to continue to evolve and update on a regular basis so that therapists understand and get used to logging in and adjusting their profiles here and there. We have created the site in such a way that it will allow us to integrate important changes as the mental health community we serve changes and grows.

I'm sure you must be thinking, "This sounds great! Where can I sign up?" Well, you can sign up here. And it's free until June of 2019. Not bad, right?
But you also my be thinking, "Nah. I don't know about this. I don't want to sign up."
And that's cool. Maybe you don't want to be on the cutting edge of the modern mental health movement. I get it. No worries ;)
Or maybe you have a specific reason for not signing up now. In that case, I would like to take the opportunity to respond to some of the more common criticism TherapyDen gets.
I want to see if it works first
I get it. Why would you sign up for something if you're not sure it's working for therapists that are already on the site. Here's the problem. If therapists don't sign up, TherapyDen won't work. So we need you to sign up in order for it to work. The more therapists that sign up, the higher we'll rank in Google searches. Google values content over everything when they rank websites. The more therapist profile pages we have, the more content we have for Google. So it's sort of a chicken and egg thing. Therapists won't sign up unless it's working. But the site won't work unless therapists sign up. That's why we aren't going to charge therapists until mid 2019. Everyone that signs up now will get, at the very least, 6 months for free.
Also, it is working for a lot of therapists already. And it's doing better every month!
Making profit doesn't match your company values
Believe it or not, a few people find it surprising and upsetting that TherapyDen plans to be profitable one day (it is a business after all). If there is one criticism that stings the most, this one would be it. Also, I think it's pretty weak. But I think many therapists reading this article can relate. It's what a lot of us go through in providing therapy. I think we all have to deal with clients feeling like we don't genuinely care about them because we ask them to pay us for our time. But getting paid and providing real, quality, compassionate care don't have to be mutually exclusive.
TherapyDen's top three values are justice, fairness and equality. We've got more, but those three always rise to the top. Running a business with those values feels great! And making money from a business feels good too. You can do good and also earn a living. And just for the record, TherapyDen will be donating 10% of our revenue from therapists that sign up for a "Supporter" profile to non-profit organizations we believe in.
I don't need clients right now
You might not need clients now, but it's never a bad idea to have a steady stream of clients to add to a waiting list. And isn't there always room for that one client who's a perfect match? You can always refer clients to other therapists who you think would be a good fit. You'll get tons of kudos from your therapist friends if you do that.
Also, I would love it if you could support TherapyDen by just creating a profile. Google rewards us for every single profile that is created. So you'll be doing us a favor by filling out your profile. And the more TherapyDen grows, the better it will perform in search results and the better it will serve clients who are frustrated with the limited search options on all the other directories out there. In addition to helping TherapyDen, you'll be helping the disenfranchised populations who have a harder time finding a therapist that truly meets their needs. So why not take 15 minutes and fill out a profile? It goes a long way.
I don't have the time
I get it. We are all short on time these days. But don't feel pressure to fill out your profile in one sitting. Fill out a little. Save it. And then come back and fill out a little more. You'll be able to complete it in between sessions over a single day. Or just take 15 or 20 minutes and bang it out.
Personally, I think the questions are kinda fun. It's sorta like filling out a treatment plan. At first you're like, "Ugh! I don't want to do this." But after you fill it out you have a much better idea of what approach you want to take and the goals you want to hit with a client. It's the same sorta thing with your TherapyDen profile. As you fill it out, ask yourself what your approach is to specific things as well as what your values and beliefs are. It's a pretty fun professional exercise if you ask me ;)
You're too political
If you don't sign up because you think TherapyDen is too "political" then that's okay with me. There is a little statement that I ask all therapists to agree to before creating an account. The statement reads:
"By signing up with TherapyDen, I agree to be inclusive and welcoming of all genders, races, countries of origin, sexual orientations, religions, and abilities. In my therapy practice I will, to the best of my ability, create a safe place for anyone and everyone that seeks my services."
Sadly, some therapists read that as a political statement and don't sign up. (It's not political.)
I also write weekly blogs and often cover topics related to social justice. Some of those blogs focus on how people in a position of privilege can help people of color and the LGBTQ community get equal access to mental health services. I also challenge racism and discrimination in my blogs. Those articles are also viewed as political by some. They are not. But if you think they are and you disagree with the points I am making, then maybe this therapist directory isn't for you. Which is not to say that I don't like a healthy debate — believe me I do! But your values may not match TherapyDen's values and if that means you don't want to sign up, then I get it.
I want to see my stats
I want you to see them too. We are working on releasing this feature in 2019. All therapists will be able to track their profile views, website clicks and sent messages so that you're not left in the dark. Stay tuned!
All therapist directories are dumb
Not allllll of them, right? So you're just skeptical of therapist directories in general? Well maybe TherapyDen can be the first one you sign up for because you support our mission!
The thing is, therapist directories are frequently visited by clients because they are easy to find and can be handy to use. So they are here to stay. And if you don't like something about TherapyDen, I'd love to hear what it is. I am always open to suggestions. And I've been known to add many features requested by therapists in the community or clients visiting the site. Just last night I added "Vegan" under specialized experience for therapists. Now vegan clients can find a therapist that really get them.
So why not help me, and everyone else looking for a therapist, improve therapist directories. They are a great way to work on your brand and get a ton of exposure.
It's not worth the money
Did I mention it was free to sign up for your first six months? And you can cancel anytime.
After your six month promotion ends, subscriptions start at just $20 a month. You'll only need to acquire one new weekly client through TherapyDen to get a good return on your investment (although I'm sure you'll do better than that on TherapyDen!). If that client lasts 15 sessions, you've made your money back plus sooooo much more. So there's that. TherapyDen should get you more than just one client. But I wanted to illustrate a point that it doesn't take much for TherapyDen to be worth the money.
So really, the more therapist directories you sign up for the better. It's just smart to meet clients where they are by providing them with multiple different avenues to find you.
Any other criticism?
Is anything else holding you back from signing up? Let me know and I'll include address it in the future.
Jeff Guenther, LPC, is a therapist in Portland, OR. He has been in private practice since 2005. Jeff is the creator and owner of Portland Therapy Center, a highly ranked therapist directory. Jeff, and his team, have launched a new progressive therapist directory, TherapyDen.